A good news story from California in Falkirk.
The effort began with James Coxon, a Palliative Medicine doctor with an interest in technology, including 3D printing who, after learning that UK hospitals, medical practices and social care organisations were in dire need of protective face shields that are used to protect the faces of frontline staff, felt those with 3D printers would be able to help.
As more 3D printer owners volunteered to help, they then started 3DCrowd UK – a community of 3D printer owners who are volunteering to print these face shields themselves. Ranging from hobbyists to professional 3D printers, 3DCrowd UK now co-ordinates a community response, printing, collecting and distributing the face shield parts made by volunteers up and down the UK.
In California they now have a dozen people involved in this and are about to set up a packing and distribution centre in the local Community Centre.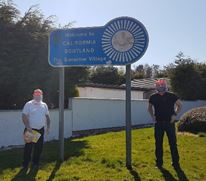 Pictured: Councillor James Kerr (left) and Ondrej Rafaj (Regional Co-ordinator, right) outside the California Community Centre – social distancing (of course) and wearing Face Shields